LAVESH PRITMANI
FOUNDER & CEO
In 2015, Lavesh launched the Learn Bhangra App for iOS and Android devices. In less than two years, the company grew from just an app to workshops, choreography, instructor certifications, and more. Lavesh began teaching Bhangra at Natya Academy in North Carolina in 2006. For 10 years, he taught 300+ students and started the independent (non-collegiate) Bhangra movement in NC. He established over 20 teams (youth and competitive), performing across North America at cultural, diversity, corporate, competitive, and social events.
As the lead instructor of Learn Bhangra, he has taught workshops in over 15 countries and 10 cities in the United States. Download the Learn Bhangra App and learn Bhangra with Lavesh today!
BIANCA MAHBUBANI
PROGRAMS DIRECTOR
As Programs Director, Bianca manages the Learn Bhangra certification process and teams. She helped coordinate the instructional plan initially launched with the Learn Bhangra App and she continues to create, tweak, and improve new programs to help engage and grow the Learn Bhangra community.
Bianca has been formally trained in Bhangra and Bharatanatyam since 2008 and 2005 respectively, studying under Ustaad Gurinderbir Chahal and Guru Smt. Sridevi Jagannath. She completed her arangetram in 2009. During her competitive Bhangra career, she performed on stages across the United States with Natya Academy's Gajjdi Jawani.
NAFISA SHAIKH
OPERATIONS DIRECTOR
As Operations director, Nafisa oversees daily activities of the team, and provides advice and guidance to other members of the team. She also establishes a culture of continuous business improvement.
She has been dancing and teaching Bhangra for over ten years, starting her dance career with Gajjdi Jawani at Natya Academy in North Carolina in 2008 and dancing on various teams since. You can now find her teaching weekly classes in Morrisville, North Carolina.
NINA GUPTA
MARKETING DIRECTOR
Nina, a versatile dancer and choreographer from the DC Metropolitan Area, has been cultivating her expertise in Ballroom, Bollywood, Bhangra, Hip-Hop, and Latin over the past 24 years. She previously competed with Mason Ke Rang and GMU Bhangra, where she held titles like Artistic Director and Lead Choreographer, and has been on various competition executive boards. Nina also served as the DDN Head Moderator and DDN Ambassador for 4 years. Now, she continues to support the DDN community through her involvement with Learn Bhangra, as the Marketing Director, and as a respected judge, for both the fusion and bhangra circuits. She continually develops her professional dance career through music videos, workshops, and collaborations with other artists.
KHUSHBOO MANKANI
SOCIAL MEDIA DIRECTOR
As Social Media Director, Khushboo is an incremental part of Learn Bhangra's online presence. From growing up in Spain, studying in London, and working in New York City, Khushboo offers a unique look into dance around the globe. During her time in London, she was able to pursue her love for dance and was able to compete at some of the most acclaimed competitions in the bhangra circuit.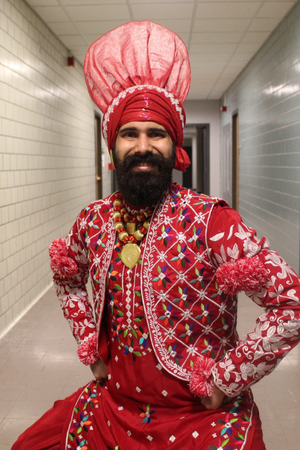 HARGOBIND SINGH
BUSINESS DEVELOPMENT DIRECTOR
Gobind leads Learn Bhangra's business development efforts for Global East. He manages our Global East Brand Ambassador team and ensures that Learn Bhangra's presence grows especially, in EMEA and APAC.